Big Imperial Cruiser Lighting Kit MML033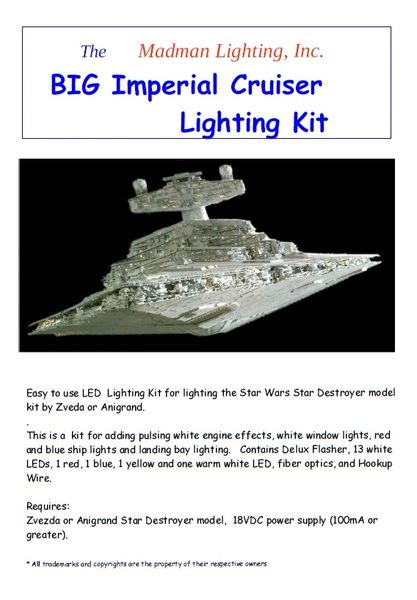 Big Imperial Cruiser Lighting Kit MML033
The BIG Imperial Cruiser Lighting kit is designed for either the Zvezda or Anigrand 1:2700 scale Star Destroyer model. This kit features one Delux-Flasher controller, fiber optics, and seventeen high brightness LEDs in White, Red and Blue colors.
Features:
  Delux-Flasher card: easy to use special effects LED controller
  High Brightness LEDs:
    Three large high brightness white LEDs for main engines.
    Four white LEDs for small engines.
    Six white LED for all the windows, ports, and bridge lights.
    Two red and Two blue LEDs for the various red and blue windows and spots.
  Fiber optics in two sized for window lighting.
  Plenty of hookup wire.
  Comprehensive instruction manual.

Reviews