New Starship Enterprise Lighting Kit MML027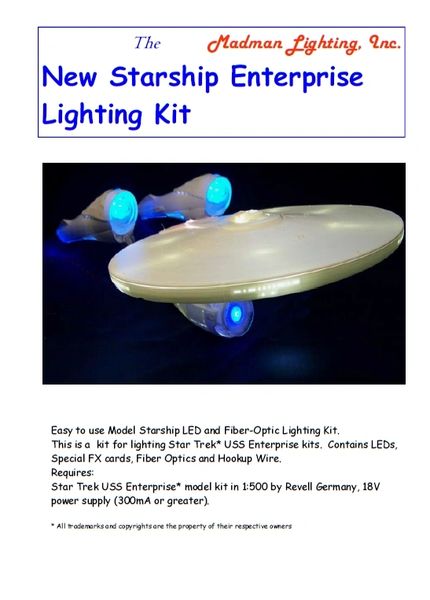 New Starship Enterprise Lighting Kit MML027
Punch IT! Go to Warp Speed with the new USS Enterprise Lighting Kit from Madman Lighting. Made for the new Starship Enterprise by Revell Germany this kit lights every port and window on the entire model.
Featuring our Delux Spinner disks to light the front of the engine nacelles and our exclusive Warp/Impulse Engine speed control this is as real as it gets in lighting.
Features:
Enable Remote Control to switch from Impulse to Warp with your TV remote control

Complete lighting solution for all windows and ports.

Delux Spinner disks for the engine intakes.

Warp Speed / Impulse Speed control of the rear engine lights

Standard Blink and also Double Blink strobe marker lights.

Easy to use no-soldering needed wire-wrap connections.
Reviews