BIG Starship lighting kit for 1/350th NX-01 and Refit kits. MML001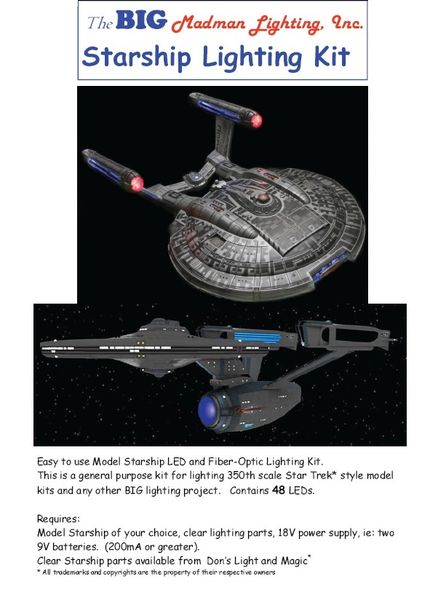 BIG Starship lighting kit for 1/350th NX-01 and Refit kits. MML001
The BIG Starship Lighting Kit is Madman's largest lighting kit and features:

    Delux Flasher Special FX card   Drive six white strobe lights and six red/green navigation lights
    Delux-24 lighting card.  Drive up to 48 constant on LEDs    48 LEDs in multiple colors and sizes.
    Five feet of 64 stranded fiber optic cable
    Five feet of 0.5mm fiber optic cable
    Fifteen feet of power wire
    Two sets of Power Plugs, large and small
    Full color instruction manual on CD-ROM
    Reprint of "Light Enterprise NX-01", first published in Sci-Fi Fantasy #4
    Easy to use No-soldering connections, connect with wire-wrap instead.

This kit is for your largest lighting projects like the Polar Lights NX-01 in 1/350 and the Enterprise Refit in 1/350.  This is a general purpose kit for lighting any large model.  A reprint of "Light Enterprise NX-01" is included to give tips and techniques for lighting large models.
Reviews