Delux Spinner Lighting Kit MML004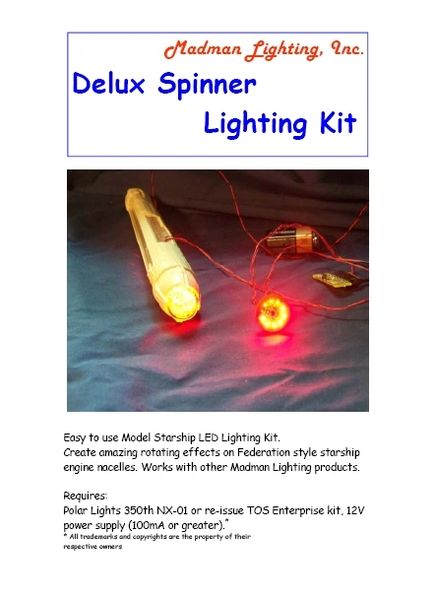 Delux Spinner Lighting Kit MML004
The Delux Spinner Lighting Kit is for lighting the front ends of warp nacelles. It fits the 1/350th scale NX-01 kit or the re-issue TOS Enterprise kit.
Features:
Delux Flasher circuit card with adjustable speed control button
Two Delux Spinner circuit card disks with 10 LEDs each (one for each warp nacelle)

Works with all Madman Lighting products, including the Starship Lighting kit and the BIG Starship Lighting Kit

Extra Red LED for "ambient" light effect, requires another Madman kit to light.
The Delux Spinner Lighting Kit is the easiest way to light the front of warp engines. This kit comes complete with three circuit cards, each fully assembled and tested. Hookup wire is provided for the modeler to connect the cards together by wire-wrapping instead of soldering.
An adjustable "chaser light" effect lights up the front of your warp engines with red and yellow lights. An extra red LED is provided to insert in the center hole of the spinner disks to create an "ambient" lighting effect. (Another Madman Lighting kit is needed to power this extra LED).
Requires an external 12V 100mA power supply.
Reviews