Republic Cruiser Lighting Kit MML010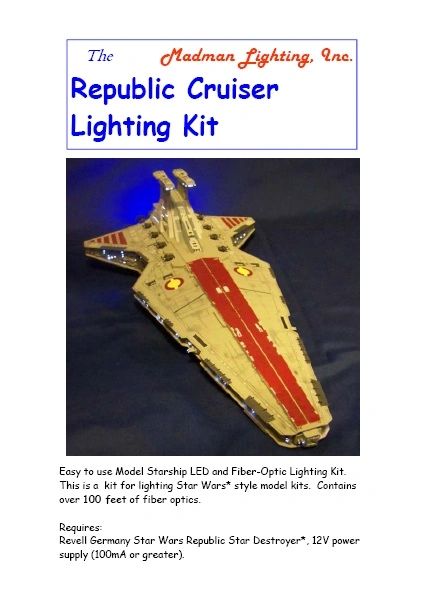 Republic Cruiser Lighting Kit MML010
The Madman Lighting Republic Cruiser Lighting Kit is the most comprehensive way to light the hundreds of lights on Star Wars Republic Star Destroyers. Built for the Revell Germany Republic Star Destroyer model, this kit features over 100 FEET of plastic fiber optic material and 11 high brightness LEDs.
Features:
Delux-24 card: easy to use constant lighting controller

High Brightness LEDs:

Four special wide angle high brightness blue LEDs for main engines.

Five white LEDs for all the windows, ports, and bridge lights.

Two high brightness blue LEDs for medium and small engines

Over 100 FEET of fiber optics in multiple diameters for lighting all the different sized windows, ports, engines, etc.

Cotton light diffusers & clear plastic diffuser holders

Drilling guides for main engines

Hookup wire.

Full color, comprehensive instruction manual.

Includes detailed step-by-step instructions on how to light the model, order of assembly and required changes to accommodate lighting.
Lighting the Republic Star Destroyer properly is a challenging project! Hundreds of fibers to install, multiple sizes of fiber, and a carefully arranged order of assembly is spelled out step-by-step in the full color instructions. Based on Madman's own project, this is the most detailed and impressive light up available for this subject.
Reviews