T-65 Engine and Cockpit Lighting Kit MML014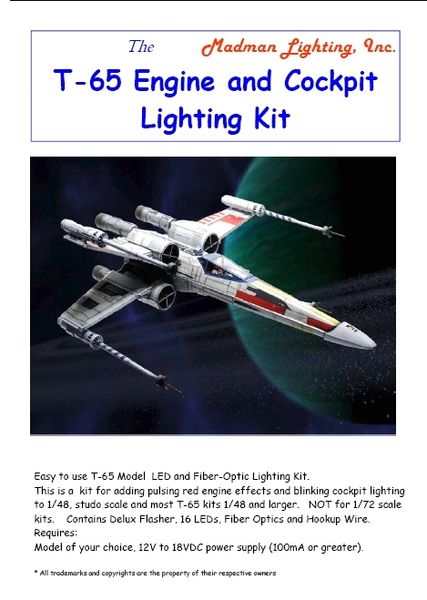 T-65 Engine and Cockpit Lighting Kit MML014
Defeat the Empire with the Madman Lighting T-65 Engine and Cockpit Lighting Kit. This kit is for Studio Scale, 1/48 and other larger scale T-65 model kits. Red engine effects feature a subtle regular pulsation and three effects with blue, red, green and white LEDs. Create a huge variety of blinking, pulsing and steady-on cockpit indicators and R-2 dome lights! Add white landing lights! A single push button controls the variable speed of the effects.
Features:
Pulsating Red LEDs for running engine effect.

Cockpit lights in Blue, Red, Green and White. Use fiber optics to light instruments and R2 unit

Combine three separate patterns of blue, green, white and red fiber optic lighting to create fantastic effects for instruments and the R2 unit.

White LEDs for landing lights.
Reviews